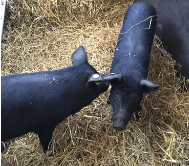 List of Pork Cuts
Smoked Bacon
Chops
Smoked Ham
Steaks
Loin Roast
Tenderloin
Shoulder Roast
Shoulder Steaks
Spare Ribs
Baby back Ribs
Fresh Ham Roast
Fresh Ham Steak
Sausage
Bratwurst
Italian Sausage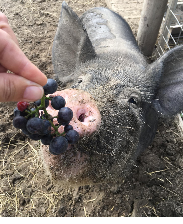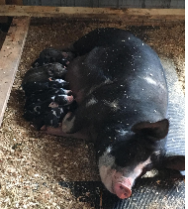 Our Pork Cuts
The pork is frozen, wrapped and each package is marked with the cut of meat. For example, four pork chops will be wrapped in white butcher paper and labeled as pork chops. A whole hog will fill about half of an upright freezer, as seen in the photo to the right. A quarter hog will fit in the freezer section of a traditional refrigerator in your kitchen.
Knowing how your food was raised and fed ensures the quality of food you want to serve your family! We invite you to visit and call us to find out more about Small Family Natural Farms.
Our Heritage Pork
Small Family Natural Farms has been raising pigs since 2014. We wanted to raise the best heritage tasting pork around and started by experimenting with different heritage breeds. Our family and friends would be invited to dinners to experience the same cuts of meats from different pigs. We compared Guinea, Mulefoot, Mangalitsa and Berkshire hogs. Each breed had great qualities. The Guinea and Mangalitsa had very flavorful hams and chops. However, we found the bacon to be too fatty. The Berkshire and Mulefoot had great bacon and their hams and chops were awesome.
We are selling Berkshire/Mulefoot crosses providing great tasting meat and bacon for your culinary enjoyment.
Our hogs are only fed organic feed from Cashton Farm Supply, organic fruits, vegetables and hay. They are processed at Bittner's Meat Company in Eureka, IL; Lake Geneva Meats in Wi; and Eickman's in Seward, IL. All are USDA certified processing plants.
Pork is sold out for 2023
Find us at the Geneva, IL French Market.